Vespa
1960 VBA 150
History: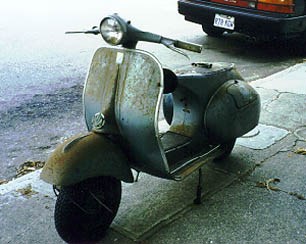 After I completed my last VBB 150 and drove it for 5 years I had a list of things I wanted to change. The VBB is a great bike but I thought I could do a better job on this time round:
The P200 motor was great but needed a little more power for the San Francisco hills.
The front drum brake stopping power and dive were both really bad.
The clutch cable would snap after about 6 months of use (always in the rain when I had to get somewhere fast), and was much harder to pull than a P200.
Premixing the gasoline/oil was a hassle.
Kick starting was fine...but what about an electric start bike??
The lighting system was great for the rear light which was directly off the battery but the headlight was still directly driven and became a flicker when the bike was idling.