Original Engine:
The original engine was a three speed 150 model with a domed piston good for about 45 miles an hour. The kickstart quadrant was broken off, the piston was missing all its ring locating pins, and there were other small parts missing. I am in the process of restoring this engine as I will eventually build a fully restored VBA from this bike's parts and another donor bike I have that has a straighter frame. It will get:
New gaskets and seals.
New kickstart quadrant from a later bike (so it will accept a newer external kick start lever).
New piston and possibly a re-bore
New used carb box (choke is via a small "butterfly valve" in the carb box)
Refinished engine cowl/flywheel cover
New wiring from the stator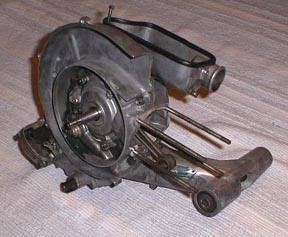 Above is the cleaned and partially restored engine ready for the barrel and piston. I managed to locate the extra parts needed through the International Scooterist BBS.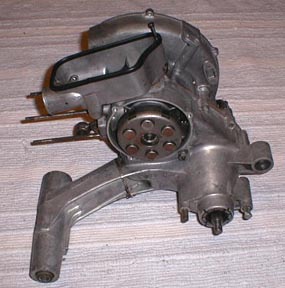 After a closer inspection of the piston I found that the rings were stuck in their grooves so I removed them carefully. The piston could've been re-used but there were some problems that made me nervous. The location pin on the second ring was somehow ground down and no longer held the ring in position and although I have replaced these pins I am always worried they will come loose when the engine is running...so I bought a new piston and rebored the barrel to match it.