Vespa
GS150 1959
Purchased Condition: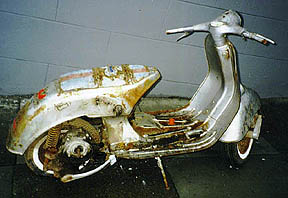 Above is the sad bike in May 1998 just after I got it home. The carb was in one piece and stuffed into the under seat toolbox. Most of the engine was missing as this had been a donor bike for another project by the seller. It also came with the seat which was missing the cover, foam, and hinge.
On closer inspection of the engine, it soon dawned on me how many parts I would have to locate. There was no stator, flywheel, fan, piston, shroud, or carb box...but at least it turned over. For the next 2 months I slowly took the bike completely apart taking pictures and drawing diagrams when I thought I was getting in over my head.