TS1 Intake
I started to look at all the bits of my TS1 kit while I wait to save the money for the rest. One area that I was not too impressed with was the finish of the inside of the intake manifold. There was a large casting joint inside on the bottom side and the corner angle where it turns into the reed valve seemed a little severe. The finish on the inside of the intake also had a rough surface.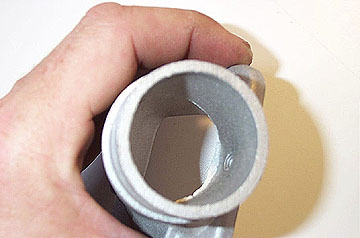 So I decided that it can't hurt to try and make things a little smoother for the gasoline. Everything I have read about 2 stroke engines notes that a smoother route for the gasoline/air will result in a better performing engine. Please bear in mind that none of this is really necessary. I am sure if you just bolt a TS1 on it will run beautifully, but I had extra time and wanted the best fitting kit I could get. If I spent this much money on a kit it should function the best it can.

Above is the result of sanding and filing the interior surface of the intake. The red arrow shows where I blended the harsh corner to make a smoother transition into the reed valve area. Although the inside of the intake has been polished, I left the right side standard for this picture to illustrate the difference between before and after (noted with the blue arrow). It is hard to see in this picture but the intake has been polished to a dull chrome shine.
Next Section -->