Lambretta Headlight Bulb - Changing
Lambretta headlights are held in by four retaining screws around the perimeter on Series III bikes and similar methods on other models. The bolt at 6:00 on the headlight is for adjusting where the headlight beam hits the road and mine was a bit of a mess when these pictures were taken.
You'll need:
A small flathead screwdriver
A new bulb (usually 6V 25/25 unless you have a 12V kit, one of the last Italian GPs, or a later Indian bike).

The first step is to remove the perimeter bolts which allow the headlight bezel to come free of the body. The bolt at the bottom which is not arrowed is an adjuster bolt and does not need to be removed.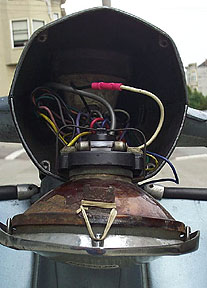 Once the screws are removed the headlight should only be held on by the electrical connections to the main bulb holder, and a small blue wire that attaches to the headlight adjusting bolt. At the top of the headlight rim you can see a rubber band between the backing flange and a slot in the rim. The adjuster bolt pulls on this and the headlight pivots on to side pegs as it is turned in, which adjust the headlight beam upwards.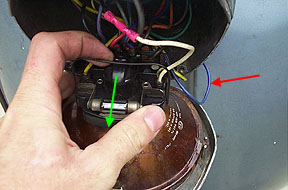 Remove the blue wire (red arrow) from the junction box and write down where it came from or stick something in the hole to remind you. It has a bullet type connector and should just pull out of the junction block. There is a retaining clip that holds the junction block/bulb holder to the headlight. Pull this toward you and it should stretch over the holder and allow you to remove the holder from the headlight as shown with the green arrow above.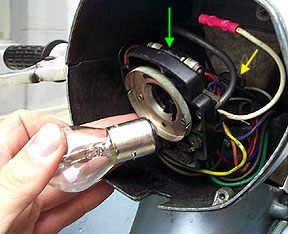 The main headlight bulb only fits one way. Take the old bulb and push it slightly into the holder. Once it is pushed in it will rotate about a 1/4 turn until the tabs on it align with the bulb holder. It can then be removed and the new bulb inserted in the reverse of how you removed the dead one. Now is also a good time to check the pilot light, shown with a green arrow, and the speedometer light, shown with a yellow arrow, to see if they need replacing. Look closely at the filament (the little wire inside the glass) and it should be continuous. If there is a break then the bulb is blown. Typically on Series III bikes the pilot bulb is a 6V 5W festoon type and the speedo bulb is a 12V 2,5W smaller bulb similar in shape to a scaled down head light bulb.
Next Section -->