Bulbs
Bulb Types
Vespa Headlight
Vespa Rear Light
Lambretta Rear Light
Bulbs - Types
Festoon bulb: Used in older rear lights and Vespa speedometers, and pilot lights. They are usually held in place by two flat pieces of thin metal that has a small hole at either end. Similar to a paper towel holder, they use tension to hold the bulb in place. Wattage and voltage are engraved in tiny letters in the metal at each end.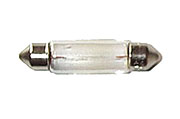 Twin filament bulb: Used in all headlights, newer rear lights, and some indicator lights. These bulbs contain two separate filaments and two contacts at the bottom. The bulb is grounded by the metal base, with either contact powered by the bulb holder to light each individual filament. The high/low beam or brake switch changes which filament is lit. Wattage and voltage are engraved in letters around the base.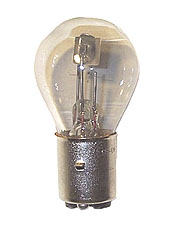 Halogen bulb: These can be used on scooters with a conversion. They are much brighter than standard automotive bulbs, but are also more expensive. Some are offered that fit into a conventional Vespa bulb holder with no conversion, but I don't have any information on them at this time.

Next Section -->